!BODY link="lightgreen" vlink="lightblue" color="white" bgcolor="black" text="white" font="white"> <!BODY TEXT="WHITE" BGCOLOR="#FFEE33" background="../../backdrop/road.jpg" LINK="#FFEE33" VLINK="#FF8000" >

<! ********* "GD&L" title line" **********>
| | | |
| --- | --- | --- |
| The NESticle Movie Archive: | . | . |
<!BGSOUND SRC="blast.mid" LOOP=INFINITE> <!EMBED SRC="blast.mid" HEIGHT=61 WIDTH=146 AUTOSTART=TRUE LOOP=TRUE> <!/center>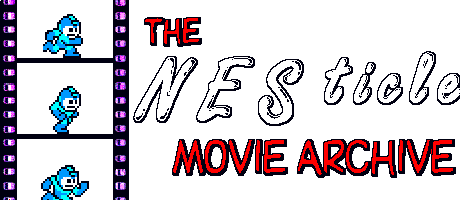 Thank you Mike For the logo! (Old logos)

<! -- Mini Email Box -- >
<! -- Contributors Box -- >

C. Green=33 Movies
toogam=31 Movies
Carlos Bordeu=25 Movies
WhooHooD'oh=24 Movies
Alderman=16 Movies
Kilik XC=14 Movies
Fiendish=13 Movies
Obiwan37=11 Movies
Matic=10 Movies
Neil Cutshaw=10 Movies
Z Zheng=7 Movies
nagol=7 Movies
N64Pro3457=6 Movies
Antwon=5 Movies
LagoGod=5 Movies
QMCG16=4 Movies
David Timko=4 Movies
Brian Villa=3 Movies
Alex10for1=3 Movies
Ray=3 Movies
Spofforth=3 Movies
Mimic=3 Movies
Stige=3 Movies
NEVERMIND8=3 Movies
mengerle=3 Movies
Clam=2 Movies
MrMagoony=2 Movies
Rayden239=2 Movies
mattg=2 Movies
Jordan Wolff= 2 Movies
Don Niederfrank=2 Movies
Xahji=2 Movies
Jimmy Houng=2 Movies
Jamal Traub=2 Movies
Dav=2 Movies
Lee Rognstad=2 Movies
Uncle Smack=1 Movies
Gary Tyler=1 Movie
slimshady=1 Movie
Patarsenic=1 Movie
Marc Roden=1 Movie
Scott9091=1 Movie
Andrew Bordeu=1 Movie
Sluterbeck=1 movie
hitman.= 1 Movie
S.B.= 1 Movie
Tomokato=1 Movie
Raziel X1=1 Movie
deputy-headless=1 Movie
sYco=1 Movie
Jeremy=1 Movie
FTrunks=1 Movie
Rich Green (FuSoYa)=1 Movie
Jonathan Fields=1 Movie
paul burslem=1 Movie
Da Jukebox=1 Movie
Cathy=1 Movie
_U-God_=1 Movie
Tribal Prophet= 1 Movie
Akira= 1 Movie
LACKER1=1 Movie
Jason Siedzik=1 Movie
]V[aLLo!!=1 Movie
Tony=1 Movie
Castlevnia=1 Movie
Elton=1 Movie
Rivera=1 Movie
Dustin (the D man) Collins=1 Movie
Fork=1 Movie
I NeXuS I=1 Movie
Jay Stenmark=1 Movie
Metal7u65=1 Movie


Welcome to The NESticle Movie Archive...Where you can download many NESticle Movies for your viewing pleasure.

This Page has a New Home!

The NESticle Movie Archive was originally headed by NEVERMIND8 in May 21th, 1997. Under NEVERMIND8's permission, this page has been moved from the unpredicable GeoCities(c) server to the great vgernet.net server on Aug. 22 1998! Now that the page is under our wing, we will continue to bring to you all the great Movie records that come our way! Please note that the original page commemerating all the Logo's received can be found in the Logos section of this page.

A Big THANK YOU to eveyone who has given me movies! So far I've got 295
If you have Movies you want on this page (That are not already on this page)




Emulators and Roms:

These are the three versions of NESticle that SHOULD be compatible with the movies, if one dosn't work, try another. Most work with V.44 or x.XX the one I use.