About the unit:
NEC's first video game system looked 16-bit, sounded 16-bit, but in reality, it was 8-bit to the core. Though its main CPU was 8-bit, the chips that handled its graphics and sounds instructions were 16-bit,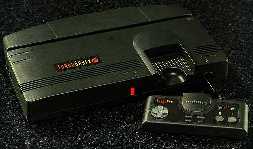 The Turbo Grafx 16

making the system look like a 16-bit system at first glance. One neat feature this unit had was that all it game cartridges, (or HuCards), were about the size of a credit card. This made the games extremely portable. This is reflected by the release of the "Turbo Express". It was a Gameboy looking device with a black case and a color LCD screen. But unlike the Gameboy, where you had to buy a separate Gameboy version of a NES game to play it on Gameboy., you could use the same HuCard for the main unit on the Turbo Express!
A CD-ROM unit was later released: the first CD unit for any console unit. Though a bit expensive, it never got a large following from the consumer. The Turbo Grafx 16 unit later faded out of the main stream market a year or two year later, but its imprint to the world wouldn't.