News
Reviews
Help
Games
Music
Forum
Links
Staff
Archive
E-Mail

Experience


Affiliates RPG Maniatikos
RPG Maniacs
Beeze Games
X-Men RPG
RPGrounds
RPG Land
RPG Hub
Ishibishi
VEFED

---
Game: Final Fantasy 3
System: Super Nintendo
Hint By: JediMaster
There's a secret passage in the Returner's hideout. In the warehouse, go through the northeast corner (watch the area circled in the picture). Follow the passage and you'll get a White Cape.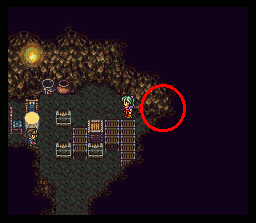 When you're trying to get the Falcon (Setzer's second airship), you'll stumble upon a tricky puzzle. You need to write something in a tombstone and you have four words to choose from: Looks tough? Try to read the words starting from the bottom... Now read them backwards... You get "The world is square"! That's it! Simply write them in this order: WEHT DLRO QSSI ERAU.
---
Game: Final Fantasy 3
System: Super Nintendo
Hint By: JediMaster
After getting the Gem Box (in Kefka's followers tower), you'll face a tricky boss. He's not that hard to defeat, but he'll make an Ultima magic in the end that will probably smash your entire team. How can you avoid it? Simply cast a Life 3 in one of your team members in the beginning of the battle. This magic automatically raises any member that is killed. This way, you'll be able to have at least one member standing after the end of the battle.
---
Game: Phantasy Star 4
System: Sega Genesis
Hint By: JediMaster
This one has been in Swordsman's page for some time. I wrote it in the beginning of his "Secrets" section. But, since some of you probably don't visit his page, I'll be posting it here.
What's the use for a "walk with the Dezolis penguin"? Easy... After getting the penguin behind you, go talk to the guy on the Northeast corner of Zosa (you have to leave the town's fence, so be careful not to exit the town or the penguin will disappear). He'll notice that you have a penguin and will tell you two things: there's a secret valley on the northwest (where you'll get a weapon for Rika) and there's a building on the northeast (the climate center). If you don't have the penguin with you, he won't tell you this info (to be exact, he'll tell you "Don't bother me"). Of course that you can go straight to these locations now that you know this, but it's more fun to talk to all the characters in the game (and a walk with a Dezolis penguin... it's really great :) ).
---
Game: Phantasy Star 4
System: Sega Genesis
Hint By: JediMaster
This game has some powerful magics that can only be executed by combining magic attacks. Here's a list with some of those attacks:
Fire Storm: Zan+Foi, Foi+Hewn, Flaeli+Zan, Flaeli+Hewn
Blizzard: Wat+Zan, Wat+Hewn
Silent Wave: Phonon+Airslash
Triblaster: Wat+Foi+Tsu
Grand Cross: Crosscut+Efess
Shooting Star: Burstroc+Nafoi
Paradin Blow: Rayblade+Astral
Lethal Image: Death+Illusion
Black Hole: Negatis+Nagra
Circuit Breaker: Hijammer+Tandle
Holocaust: Savol+Diem
Destruction: Deban+Megid+Legeon+Posibolt
Purify Light: Holyword+Efess+Conduct
Thunder: Nawat+Tandle
---
Game: Phantasy Star 4
System: Sega Genesis
Hint By: SWwookie
For massive experience there is an enemy in the cave above your home town. This monster is one of those blue jelly things. To get the experience you need to get into a battle with more than one of them at a time and kill all but two (if there are three). After that keep all your characters on defend for a few turns until the two monsters merge into a big slime thing. You should wait until you are a bit into the game to fight them because they are hard enough to kill you early on. Also if you kill the sandworms later in the game you can get decent experience.
---
Game: Shining Force 2
System: Sega Genesis
Hint By: JediMaster
Important Objects:
Dry Stone : can be found in the sick dwarf's mine.Search in the fireplace and you'll find it. Its use? There's a river north of Galam, surrounding an island. Use it in the river and you'll be able to cross it. In the island is the dwarf Blacksmith, that will turn your mithril into weapons.
Secret Book : can be found in Elf Village, on a bookshelf in the top floor of the largest house. Promotes Kazin to "Sorcerer". You'll lose all your old magics (Blaze, Freeze...), but you'll get more powerful ones (like Tao or Apolo).
Silver Tank : can be found in the passageway to "Bedoe". Promotes Elric to "Brass Gunner". He'll have a bigger range and will cause more damage.
Warrior Pride Shield : can be found in "New Castle", behind a shield hanging in the wall. It promotes Jaha to "Baron". This way, he'll be stronger and will be able to use both axes and swords.
Vigor Ball : You can find it in Elf Village (in the top left). It promotes Sarah to "Master Monk". Apart from becoming stronger at attacking, she'll be able to use a new kind of weapon : Knuckles.
---
Game: Zelda 64
System: Nintendo 64
Hint By: JediMaster
You want a horse and don't know how to get it? It's easy. Simply wait until you're a grownup. Go to the Lon Lon Ranch and talk to Ingo. Say that you want to ride a horse. When you're inside the horse's circuit (that circular fence) play Epona's song. Epona will come to you. Mount her and talk to Ingo. He'll challenge you for a race. Defeat him and he'll bet Epona in another race. Win and you'll get the horse. Ingo will close the gates, trying to prevent you from leaving... but don't worry. Simply run to the fence as fast as you can and Epona will jump it. Congratulations! Now you have a horse!